HEY COFFEE LOVER
Here at Espresso Repair Specialists, we're the specialists in all things coffee - ready to help you with any espresso machine repairs, sales, servicing, refurbishment, and/or customization.
With our unparalleled knowledge of espresso equipment, as well as hands-on cafe & barista experience, we're your trusted team of experts. You'll love our customer-focused service, friendly advice, and vast range of expertise. Your coffee machine will be in good hands!
We pride ourselves on providing top notch service, quick turnaround, and the best quality workmanship in Wellington. Whether you need a fix or service for your existing coffee machine or you're in the market for a new one, we've got you covered.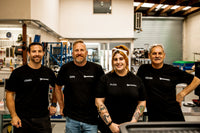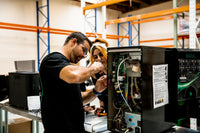 Wellington's Favourite Coffee Machine Repair Team
We love your coffee machine as much as you do, and use our 30+ years of combined experience to keep it running beautifully for you. And if we can't repair it, we'll work with you to find the perfect successor to keep you well caffeinated.
Meet The ERS Team
Why Our Customers Love Us
Outstanding professional service! Happy to support my local business and I will add "Comes Highly recommended". Thanks for explaining the service and repair to our machine, good to know what was done.

Angela S
We sent our espresso machine from Hamilton to Welly, and it's come back running like a dream. The customer service was next level! I highly recommend!

Annie S
Craig is awesome. He offers a quick turnaround, does excellent work, and really cares about making his customer's espresso machines perform at their best. My machine is working brilliantly — it's like a whole new machine! Thanks for your work Craig.

Joshua W
Best espresso repair workshop in Wellington... Proud to be their customer.

Gil
Great service, fixed my machine for a reasonable cost.. I will recommend to others.

Aris S
Serviced my beautiful old Rocket and now its working just like new making superb brews. Awesome friendly service and done in a day. Thanks team!

Nick V
Location
Come And Visit Us!
39 Victoria Street
Petone
Mon - Fri, 9am - 4pm
PLEASE NOTE the updated address as of 7th Feb 2023. If unsure where to go, please call 021 084 01134 to talk to our team before visiting.